Posted by Charlotte Abrams on 26th Oct 2017
Lemon-Blueberry Muffins with Calivirgin Lusty Lemon Olive Oil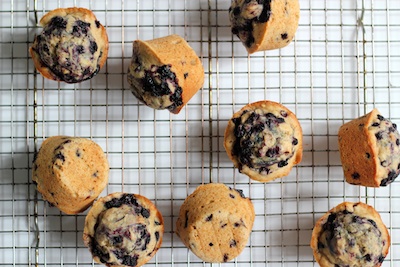 Makes 12 muffins
2 cups blueberries, thawed if frozen, divided

3/4 cup sugar, plus 1 teaspoon

2 cups all-purpose flour

2 teaspoons baking powder

1/2 teaspoon kosher salt

2 large eggs

4 tablespoons butter, melted and cooled slightly

1/4 cup

Calivirgin Lusty Lemon Olive Oil

3/4 cup milk
Heat oven to 400 degrees and grease standard muffin tin or line with papers. Combine 1 cup blueberries with 1 teaspoon sugar in small saucepan. Bring to a simmer over medium heat and cook, smashing with the back of a spoon, until broken down and reduced to about 1/4 cup. Cool to room temperature.

Combine flour, baking powder, and salt in a large bowl. Whisk remaining 3/4 cup sugar and eggs in a medium bowl until homogenized. Slowly add butter and olive oil, whisking until combined. Whisk in milk until combined. Gently fold wet ingredients and remaining 1 cup blueberries into flour mixture just until moistened.

Divide batter equally among prepared muffin cups. Spoon a teaspoon of cooked berry mixture into center of each muffin. Using a skewer, gently swirl berry mixture into batter.

Bake until golden and just firm, about 18-20 minutes.
Recipe Courtesy of Charlotte Abrams