Posted by Jules @ Yankee Kitchen Ninja (www.yankeekitchenninja.com) on 31st Jan 2018
Enjoy this quick-to-prepare riff on rustic Italian panzanella salad, with lightly fried naan and a bright lemony dressing -- an easy summery meal salad, perfect for a weeknight dinner or hearty lunch.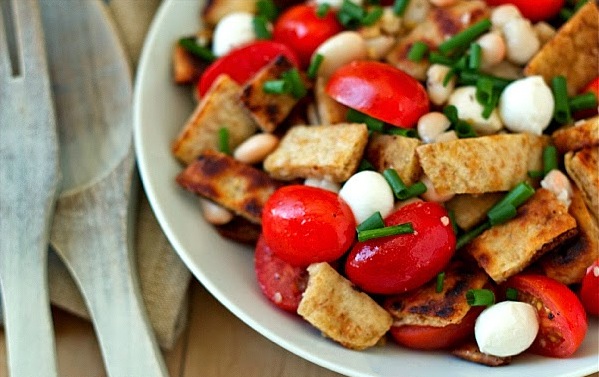 Naan Panzanella Salad
(inspired by a recipe in Good Housekeeping)
Ingredients:
1 tablespoon Calivirgin olive oil
8 ounces naan (I use Stonefire Grill Whole Grain Naan), cut into bite-sized pieces
1/4 cup white balsamic vinegar
2 tablespoons lemon-infused olive oil (I use Calivirgin Lusty Lemon)
2 cloves garlic, minced
salt and pepper
2 pints grape tomatoes, halved
8-ounce tub of mini mozzarella balls, drained
1 cup cannellini beans, rinsed
1/4 cup sliced green onion

Directions:
Heat 1 tablespoon olive oil in a large skillet over medium-high heat. Add the naan and cook about 5 minutes or until lightly browned, stirring often.

Meanwhile, in a large bowl, whisk together the vinegar, lemon oil, garlic and salt and pepper to taste. Add the tomatoes, cheese, beans, green onion and naan; toss to coat. Serves 3-4.
Recipe Courtesy of Yankee Kitchen Ninja - Stealthy Homemaking