Calivirgin Jalapeño Garlic olive oil is milled exactly the same way as our premium extra virgin olive oil, except fresh jalapeños and garlic cloves are crushed together with the olives. The result is a fresh unfiltered, premium California olive oil with no additives or preservatives that has a natural jalapeño and garlic flavor. At first you will taste the savory garlic, then the fiery jalapeño will sneak up on you with a burn that keeps you eating more. This one is not for the faint of heart! Piccante!
$20.00
Club Price: $17.00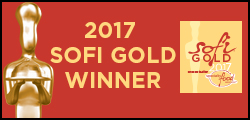 2016 Awards:
Gold Medal - Big Fresno Fair San Joaquin Valley Olive Oil Competition

Gold Medal - California State Fair Olive Oil Competition

Gold Medal - Los Angeles International Olive Oil Competition
Silver Medal - Napa Valley Fair Olive Oil Competition
Bronze Medal - Yolo County Fair Olive Oil Competition
Bronze Medal - Central Coast Olive Oil Competition
Bulk Discounts:
Buy 12 - 1000 and pay only $18.00 each
Perfect blend of the two flavors by far one of my favorite olive oil blends . Essential when making fajitas, tacos or any of your favorite Mexican dishes .
This very special olive oil is just that; very special! It gives a wonderful extra bit of flavour to many of the dishes I have used it in.
This is the Best Jalapeno Garlic Olive Oil I have had so far. I have tried Jalapeno and I've Tried Garlic, but this is mixed together all in one and it's really got bite to it. love it so much. Thanks. We are on our second bottle right now because we love it on eggs, steak, and yes even chicken. There's no end to how you can use it. Dip bread in it for a real kick! YUM
Just enough spice a whole lot of flavor!
Love this olive oil -- adds great flavor to everything including spaghetti sauce -- saute the onion in it and add it to the water when boiling the noodles...YUM!
We absolutely love this oil on our grilled vegetables. Very tasty on caprese salad with the aged balsamic.