A unique unfiltered blend of estate grown, Arbequina and Koroneiki olives is cold-pressed within hours of harvest, which produces a fresh, aromatic, fruity flavor that is perfect for dipping but mild enough to use as a trans fat free culinary staple in your kitchen. COOC Certified Extra Virgin Olive Oil
$28.00
Club Price: $23.80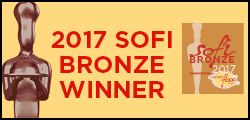 2016 Awards:
Gold Medal - Big Fresno Fair San Joaquin Valley Olive Oil Competition

Gold Medal - COOC California Olive Oil Council Competition
Silver Medal - Los Angeles International Olive Oil Competition
Silver Medal - Central Coast Olive Oil Competition
Silver Medal - Napa Valley Fair Olive Oil Competition
Bronze Medal - Yolo County Fair Olive Oil Competition
Bulk Discounts:
Buy 12 - 1000 and pay only $25.00 each
Wonderful, pure olive oil at it's best. I'm so spoiled now by the wonderful oils from this family!
Premium extra virgin olive oil
This is such a light, smooth olive oil! I love it for dressings and dipping sauces!
Once you have had Calivirgin Extra Virgin Olive Oil you will be hooked for life . Unbeatable flavor nothing else on the market can compare .
I have tried lots of olive oils but Calivirgin in my opinion is the best out there! So fresh and fruity tasting that it goes with everything while cooking. Thank you for making such a wonderful product!
Calivirgin Premium Exta Virgin Olive Oil
Simply amazing olive oil. Love it.
The best Olive Oil around
This olive oil has such a wonderful flavor and consistency. The flavor is unmatched by any other on the market.
this olive oil is consistently of the buttery, not peppery, style, which I love for caprese and dipping and salades. Delicious, better than butter!
These are the 3rd and 4th bottles I've gotten from Calivirgin. It's what I use all the time now.
So this is what real EVOO tastes like :)
This EVOO is delicious! I've been using another brand for many years and decided to try some local sourced oil from California. I had just read that not all EVOO is what is says it is. Hummmmm! I did some research and liked that this company was using organic farming methods and all the oil I would buy would come directly from their California farm. I ordered one bottle to try and liked it so much I recently just ordered a case. Yes, my husband and I use lots of olive oil. Yes, it is much, much more expensive than the EVOO I was buying but my health is definitely worth it. As long as this company continues to use organic farming methods and the oil I buy is sourced 100% from their farm then I will continue to be a life long customer. Enjoy, you won't be disappointed! :)
Won't buy any other olive oil!!
I have been using your olive oil for years and I will not use anything else! Love the flavor!