Made with our Calivinegar Sinful Strawberry Balsamic Vinegar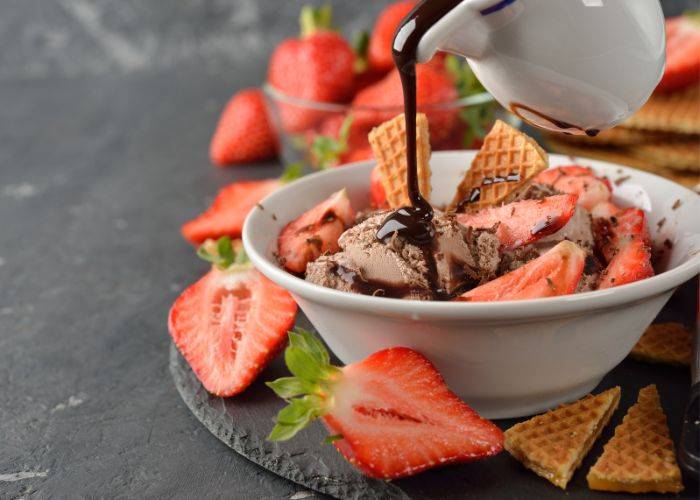 ¼ cup water
1 ½ tablespoons sugar
1 ½ tablespoons Cocoa powder
⅛ teaspoon salt
¼ teaspoon vanilla
Add the

Calivinegar Strawberry Balsamic Vinegar

in a small saucepan bringing to a boil over medium heat. When boiling, immediately reduce the heat to medium-low and simmer for 15-20 minutes, frequently stirring until the liquid becomes thick. The goal is to reduce the balsamic vinegar liquid to about one-third from its original half-cup to produce a thicker liquid that will begin to coat the spoon.
Meanwhile, in another small saucepan, add the water, sugar, cocoa powder, and salt. Whisk until smooth. Bring to a boil then reduce heat to medium-low and simmer, stirring constantly for five minutes to thicken. Remove from heat and stir in the vanilla.
Let both mixtures cool to room temperature, combine the balsamic reduction and the chocolate syrup whisking thoroughly until thoroughly combined and smooth.
Pour into a small pitcher to use immediately, or store in a sterile glass bottle.
Sinful Strawberry Balsamic Vinegar