We made it with our Calivinegar Barrel-Aged Balsamic & Calivirgin Guilty Garlic Oil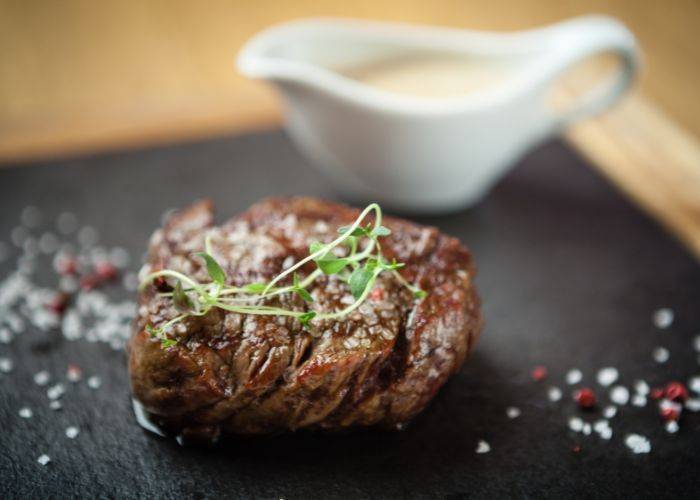 Servings: 2 | Prep Time: 5 min | Total Time: 20 min
For Steak:
Sprinkle freshly ground pepper over both sides of each steak, and sprinkle with salt to taste.

Heat a nonstick skillet over medium-high heat. Place teaks in hot pan, and cook for 1 minute on each side, or until browned. Reduce heat to medium-low, and add balsamic vinegar and red wine. Cover, and cook for 4 minutes on each side, basting with sauce when you turn meat over.

Remove steaks to two warmed plates, spoon one tablespoons of glaze over each, and serve immediately.
For Mushrooms:
In a skillet over medium heat, add the butter. When better is melted, add the mushrooms and cook for about 4 minutes or until the mushrooms start to become tender and the outsides golden a bit.

Lower the heat slightly and push the mushrooms off the sides of the pan, making an empty circle in the middle. To the middle, ass the garlic and thyme. Cook for 1 minute, continually stirring so the garlic does not burn.

Mix the mushrooms into the middle ingredients and season with salt and pepper. Saute for 2-3 minutes, then add in the Calivinegar Barrel-Aged Balsamic. Stir while cooking for another 2 minutes.

Serve and enjoy.
Barrel-Aged Balsamic Vinegar
---