Made with our Calivirgin Hot Virgin Jalapeño Olive Oil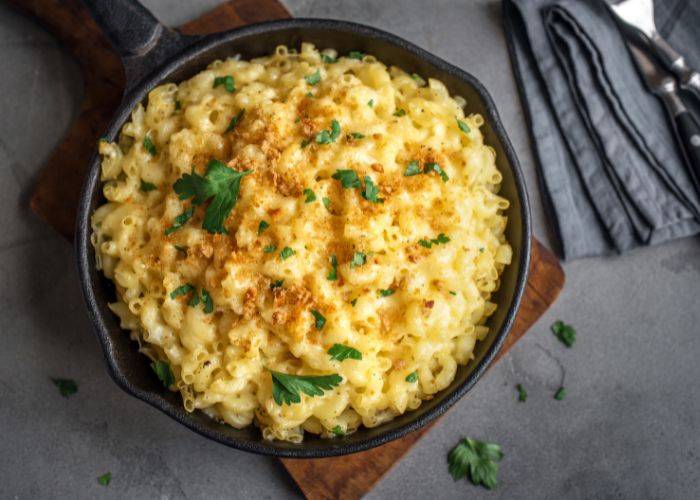 14 ounce elbow pasta

9 ounce bacon, diced

4 jalapeños, deseeded, 3 finely diced & 1 sliced into rounds

4 cups milk, room temp

2 cups cheddar cheese, grated

2 cups mozzarella cheese, shredded

½ cup parmesan cheese, grated

1/2 cup panko breadcrumbs

3 tablespoons flour

2 tablespoons Calivirgin Hot Virgin Jalapeño Olive Oil

1 tablespoon Dijon mustard

1 teaspoon garlic powder

½ teaspoon onion powder

¼ cayenne pepper

Salt, to taste

Black pepper, to taste
Fry bacon in large deep pan over medium heat until your desired texture. Add 3 diced jalapeños and fry for a couple of minutes until soft. Drain away excess fat if necessary, then add Calivirgin Hot Virgin Jalapeño Olive Oil.

Stir in flour until a paste forms, then very gradually stir in 4 cups of milk, lump free. Add mustard, onion powder, garlic powder, and cayenne, then allow to bubble until thickened, stirring occasionally.

Meanwhile, preheat oven to 390ºF. Cook pasta in salted boiling water until al dente.

Once thickened, turn off heat and stir in cheddar, mozzarella and parmesan.

Stir in your pasta and transfer to a baking dish.

Top with more parmesan, breadcrumbs, and jalapeño slices. Bake in oven for about 20-25 minutes, or until golden and bubbly.
---