We made it with our Calivirgin Hot Virgin Jalapeño Olive Oil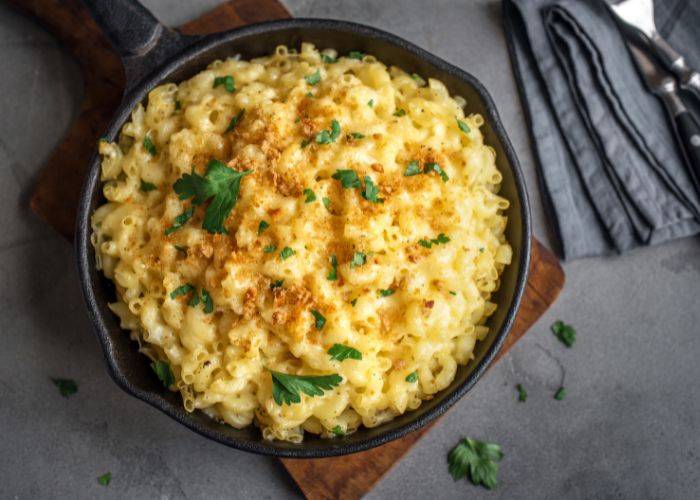 Servings: 6 | Prep Time: 10 min | Total Time: 55 min
14oz Elbow Pasta

9oz Streaky Bacon, diced

4 Fresh Jalapeños, deseeded (3 finely diced & 1 sliced into rounds)

4 cups Milk, room temp

2 cups Cheddar Cheese, grated

2 cups Mozzarella Cheese, shredded

1 cup Parmesan Cheese, grated (save half for top)

1/2 cup Panko Breadcrumbs

3 heaped tbsp Flour

1 tbsp Dijon mustard

1 tsp Garlic Powder

1/2 tsp Onion Powder

1/4 Cayenne Pepper

Salt & Black Pepper, to taste
Fry 9oz bacon in large deep pan over medium heat until your desired texture. Add 3 diced and deseeded jalapeños and fry for a couple of minutes until soft. Drain away excess fat if necessary, then add 2 tbsp of Calivirgin Hot Virgin Jalapeño Olive Oil.

Stir in 3 heaped tbsp until a paste forms, then very gradually stir in 4 cups of milk, lump free. Add 1 tbsp mustard, 1/2 onion powder, 1 tsp garlic powder, 1/4 tsp cayenne and 1 tsp hot sauce, then allow to bubble until thickened, stirring occasionally. Adjust spice as necessary. Important to thicken sauce before adding cheese (step 4), don't add cheese to thicken sauce, will loose flavor and will produce a grainy texture.

Meanwhile, preheat oven to 390ºF and cook 14oz pasta in salted boiling water until al dente (take a few minutes off the packet instruction, you will want pasta still a bit hard).

Once thickened, turn off heat and stir in 2 cups cheddar & mozzarella and 1/2 cup parmesan (save other half to top). Taste for seasoning. Stir in your pasta and transfer to a baking dish. It might seem overly stringy/saucy but will smooth out in the oven.

Top with the rest of parmesan, 1/2 cup breadcrumbs, then the rest of your Jalapeño. Finish with spraying oil on top then pop in the oven for 20-25mins or until a golden bubbly.
---