Made with our Calivines Sauvignon Blanc Wine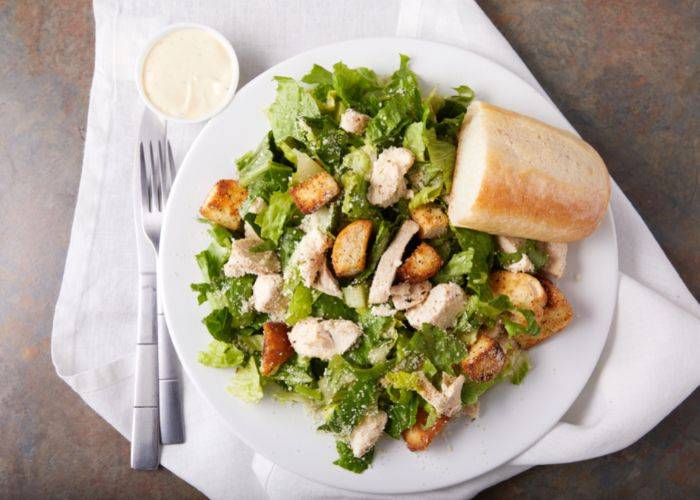 Chicken:
Croutons:
Dressing:
2 tablespoon shallots, minced

3 tablespoon lemon juice

1 teaspoon lemon zest

1 tablespoon Calivinegar White Wine Prosecco Vinegar

¼ teaspoon salt

½

teaspoon black pepper

½

teaspoon sugar

½

cups Romaine lettuce

½

cup flat leaf parsley, chopped

¼ cup Romano cheese, grated
Add Calivines Sauvignon Blanc to a shallow skillet and slowly bring to a boil on medium heat. Add chicken breasts, cover and poach approximately 20 minutes over medium low heat or until chicken is cooked through and reaches an internal temperature of 165ºF. Turn off and allow chicken to cool in juices. Reserve the pan juices.

Remove meat from bone and shred. Set aside.

Turn heat to medium high and boil wine broth until reduced to ¼ cup.

Meanwhile make croutons using half of a wholegrain baguette. Slice baguette in half down the center. Brush both sides with Calivirgin Premium Extra Virgin Olive Oil. Cut into 1-inch square cubes. Toss with finely minced garlic. Place on baking sheet and bake at 350ºF for 10-15 minutes or until golden.
Make the vinaigrette by combining shallots, lemon juice, lemon zest, Calivinegar Prosecco White Wine Vinegar, salt, pepper and sugar. Stir in hot wine and allow it to cool then whisk in Calivirgin Premium Extra Virgin Olive Oil.

Tear romaine lettuce into bite size pieces and divide among the 4 dinner plates. Sprinkle with parsley. Top with garlic croutons, shredded chicken and vinaigrette.

Garnish each plate with Romano cheese.