Made with our Calivines Sauvignon Blanc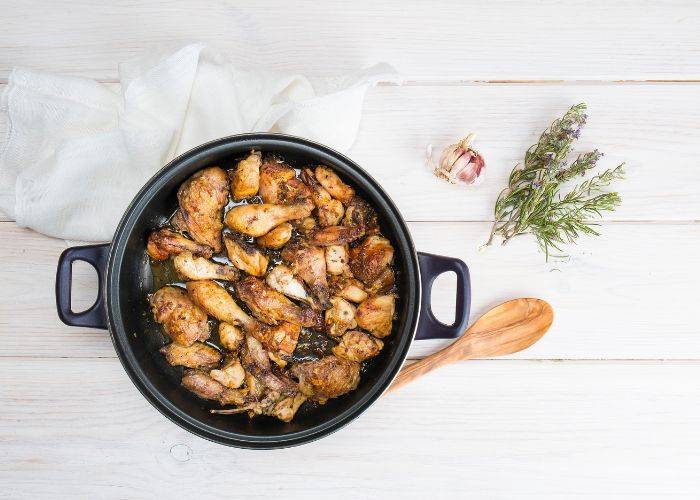 • 3 pounds bone-in, skin-on chicken thighs and/or breasts
• Salt and freshly ground black pepper
• 2-3 whole heads of garlic, 40 cloves separated and peeled
• 1 ¼ cups Calivines Sauvignon Blanc
• 6 large sprigs of fresh thyme
Trim the chicken pieces of excess fat. Sprinkle lightly with salt. Let sit at room temp while you peel the garlic.

Lightly smash the garlic cloves.

Heat

Calivirgin Premium Extra Virgin Olive Oil

in a Dutch oven on medium high heat. Working in batches, brown the chicken pieces on all sides, about 2 to 3 minutes per side. Remove from pan when browned.

Add the garlic and sauté until golden brown, about 4 minutes.

Add Calivines Sauvignon Blanc and the sprigs of thyme. Bring to a boil. Add the chicken pieces, skin-side-up. Reduce the heat to medium low.

Cover the pan and simmer until the chicken is cooked through, about 20-25 minutes. Chicken is done when a meat thermometer inserted into thickest part reads 160-165°F.

Season to taste with salt and pepper.

You can thicken the sauce with a little flour or cornstrach, if needed.

Transfer chicken pieces to a platter; spoon garlic sauce over the chicken. Enjoy!