We made it with our Calivines Chardonnay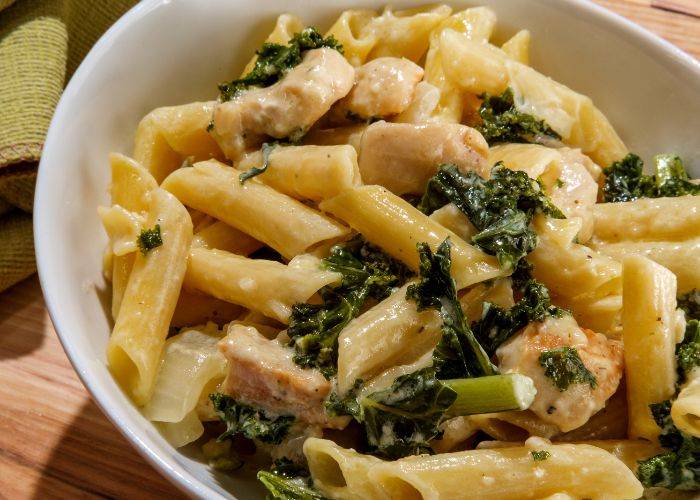 Servings: 6 | Prep Time: 15 min | Total Time: 45 min
8oz penne pasta

1 piece of skinless, boneless chicken breasts

4 cloves of minced garlic

1 shallot, well chopped

1 teaspoon of crushed pepper

1/2 cup Calivines Chardonnay

1 cup of halved cherry tomatoes

1/2 cup grated parmesan cheese

1/2 teaspoon of ground pepper

1 teaspoon of kosher salt

2 tablespoons of

Calivirgin Premium Extra Virgin Olive Oil

Ground pepper and salt, to taste

Fresh parsley, for garnish
Boil water inside a large and deep skillet. Cook the pasta till it becomes tender. Remove water and keep one side.

As the pasta continues to cook, put tomatoes inside miniature oven-safe and boil. Sprinkle with 1 tablespoon of olive oil. Then broil on high heat for about 5 minutes or continue to broil till well-cooked slightly. Bring out of the oven and set aside.

Now you have to prepare the chicken. Using the flat side of the mallet batter the chicken. Drizzle with pepper and salt. Heat your skillet to medium and put in the olive oil that remains as well as the chicken. Cook chicken for about 8 to 12 minutes or continue to cook till the temperature reads 165 degrees. Ensure you flip after some time as you cook. When the chicken is done, transfer to cutting board and cut large pieces.

Return skillet to heat and melt 2 tablespoons of butter and 2 tablespoons of oil on medium heat. Add the garlic, shallots as well as red pepper flakes, then sauté for about 2 minutes, continue to scrap bits from chicken to the bottom of a pan. Lower heat to a simmer, then add Calivines Chardonnay and reduce down about 5 minutes. Add the half and half, chicken parmesan cheese and stir in roasted tomatoes carefully.

Go ahead and garnish your one pan chicken pasta Chardonnay with more parmesan cheese and chopped parsley if you like.
---