We made it with our Calivinegar Barrel-Aged Balsamic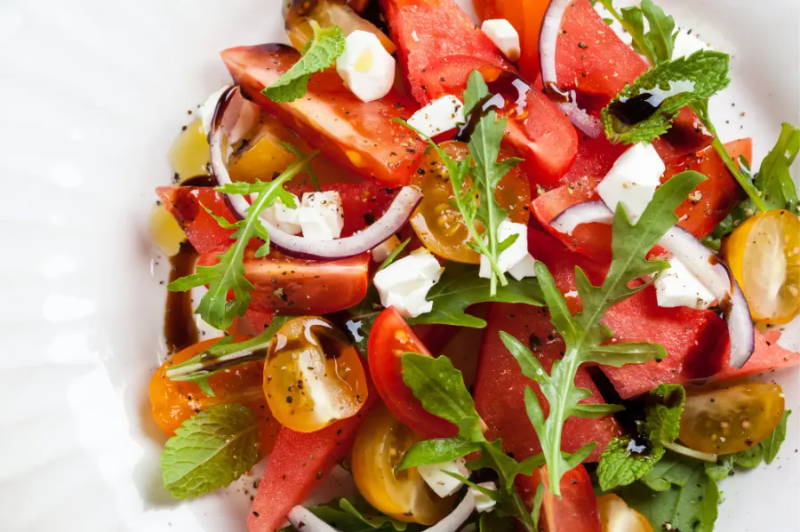 Course: Salad
Servings: 6-8
Prep Time: 10 min
Total Time: 1 hr 45 min
Ingredients
2 tablespoons Calivinegar Barrel-Aged Balsamic
1 tablespoon fresh lemon juice
1/2 cup Calivirgin Bountiful Basil Olive Oil
2 beefsteak (or any other large variety) tomatoes, stemmed, washed and dried
1 pint cherry tomatoes, stemmed, washed and dried
1 tablespoon mint leaves
4 strawberries, hulled, washed and cut into very small pieces
Maldon sea salt
Freshly ground black pepper
1 to 2 teaspoons superfine (or granulated) sugar
6 ounces cold watermelon, rind removed, seeded and cut into bite-sized cubes
Optional: Add feta on top
Directions
In a bowl, whisk together the balsamic, lemon juice, and olive oil. Taste for seasoning. Set aside.
Place the tomatoes on a flat surface. Cut the smaller ones in half and larger ones into slices. Arrange all of them in a single layer, flesh side up. Season them with salt, black pepper and sugar. Drizzle the tomatoes with the dressing. Toss them with the tarragon and strawberries.
Arrange the tomatoes down the length of 6 rectangular plates. Drizzle with the remaining dressing and top with the watermelon. Serve immediately.
Calivinegar Barrel-Aged Balsamic Vinegar