Made with our Calivinegar Pear Balsamic Vinegar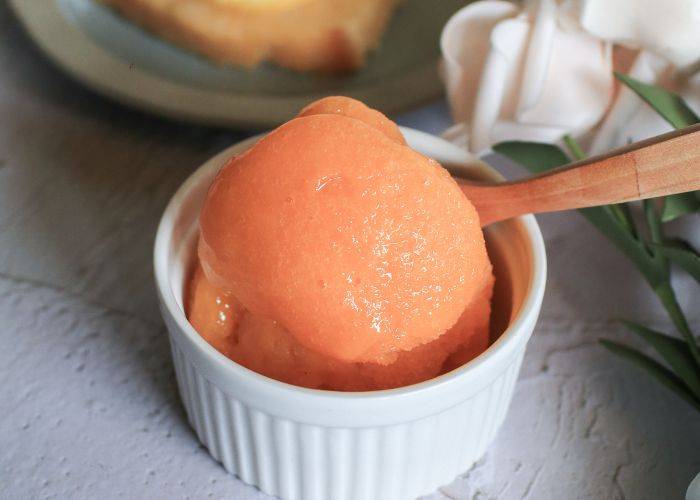 • 3 cups organic strawberries, sliced
• 1 cup pears, sliced
• 1 tablespoon
Calivinegar Pear Balsamic Vinegar
• 2 tablespoons granulated sugar
• 2 organic medium egg yolks
• 6 tablespoons granulated sugar
• 1 ½ cups organic heavy cream
• 1 cup 2% milk
• ¼ teaspoon salt
Preheat the oven to 350 degrees F.
Combine the apricots, pears, Calivinegar Pear Balsamic Vinegar, and 2 tablespoons of sugar in a pan. Toss gently to coat and bake in the oven for 10 minutes until the fruit is soft.
Let the fruit cool lightly for about 15 minutes.
Transfer the fruit and juice to a blender and puree until smooth.
Strain the fruit puree through a fine mesh strainer. You should get about 2 cups. Set aside.
In a medium heatproof bowl, whisk the yolks with 6 tablespoons of granulated sugar just to break them up. Set aside.
In a heavy saucepan over medium low heat, combine cream, milk, and salt and let it heat up until you see the liquid bubbling at the edges.
Measure out half a cup of cream mixture.
While whisking the eggs constantly, whisk the hot cream mixture into the eggs until smooth. Continue tempering the eggs by adding another ½ cup of hot cream to the bowl with the yolks.
Pour the cream-egg mixture back to the saucepan. Add the fruit puree.
Cook the mixture over medium heat, stirring constantly until it is thickened and coats the back of a spatula, about 5-7 minutes.
Strain the base through a fine-mesh strainer into a clean container to remove any egg pieces that were cooked during the process.
Pour the mixture into a 1-gallon Ziplock freezer bag and submerge the sealed bag in an ice bath until cold, about 30 minutes.
Refrigerate the ice cream base for at least 4 hours or overnight.
Pour the ice cream base into the frozen canister of your ice cream machine and follow the manufacturer's instructions. Spin until thick and creamy about 30-35 minutes.
Pack the ice cream into a storage container, press a sheet of parchment directly against the surface and seal with an airtight lid. Freeze in the coldest part of your freezer until firm, at least 4 hours.
Recipe inspired by Beyond Sweet & Savory
---