Made with our Calivirgin Blood Orange Olive Oil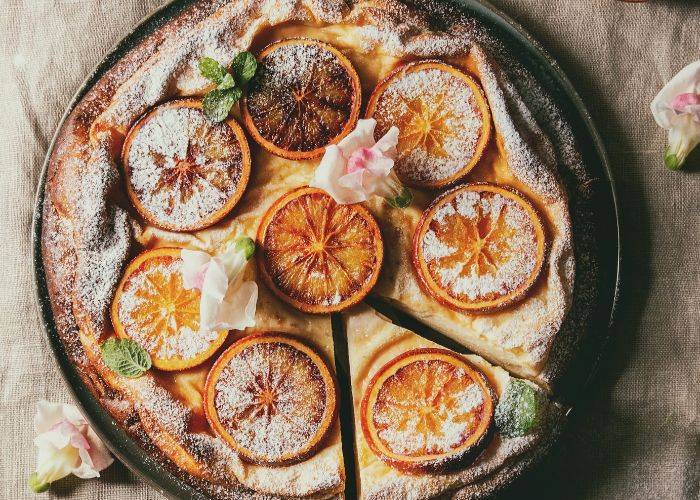 1 ½

cups

all-purpose flour

2

teaspoons

baking powder

½

teaspoon

salt

4

large eggs

¼

cup

whole milk

1

teaspoon

vanilla extract

2

blood oranges,

zested

3

teaspoons

ground cardamom
2

tablespoons

unsalted butter

3

tablespoons

brown sugar

½

blood orange,

thinly sliced
Preheat oven to 350°F. Place butter and brown sugar into the bottom of a loaf pan and place into the oven for about 5 minutes or until the sugar and butter are melted. Swirl the pan to evenly distribute the melted ingredients over the bottom. Arrange blood orange slices on the melted butter & sugar - a little overlap is fine. Grease the sides of the pan.
In a small mixing bowl, whisk together flour, baking powder, salt, and cardamom.
In a medium-sized mixing bowl, beat sugar and eggs until thick and pale yellow. Mix in milk and vanilla until just combined. Add in

Calivirgin Blood Orange Olive Oil

a little bit at a time until just combined.
Mix in dry ingredients a little bit at a time until just combined. Fold in zest.
Pour batter over blood oranges. Bake for 60 minutes or until a toothpick inserted into the center of the loaf comes out clean. 40 minutes into the bake, check to see if the top is getting overly brown. If so, cover with foil for the remaining 20 minutes.
Cool for 10 minutes before inverting onto a board. Transfer to a cooling rack. When cool, slice and serve.
---