Made with our Calivinegar Very Berry Ginger Balsamic Vinegar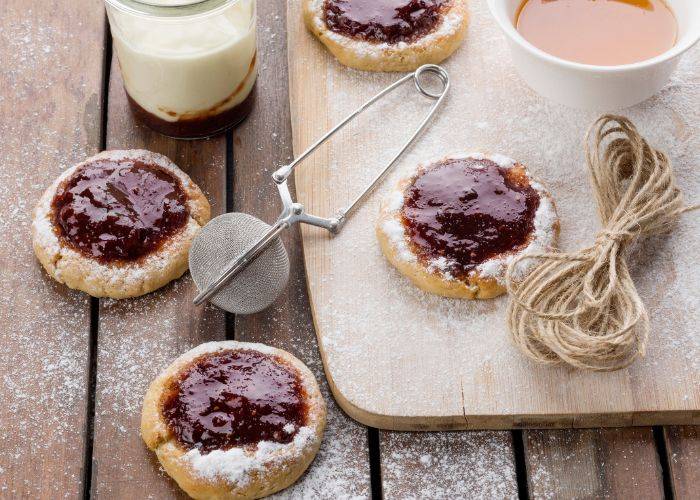 Cookies:
1 cup unsalted butter, room temperature
⅔ cup granulated sugar
1 teaspoon vanilla
2 cups all-purpose flour
Honey & Balsamic Berry Jam:
Place all of the jam ingredients into a medium-sized saucepan over high heat. Stir often.

Once the mixture comes to a rolling boil, decrease the heat to medium and allow to cook for an additional 10 to 15 minutes, stirring often.

Spoon or ladle the saucy jam into a jar and seal. Allow jam to come to room temperature before refrigerating until use.

Preheat oven to 350°F.

In a large mixing bowl, cream the butter and sugar together on medium speed for 2 minutes.

Add the vanilla; mix on medium speed for 30 seconds.

On low speed, add the flour ½-cup at a time, just until incorporated.

Use a silicone spatula to stir in any remaining flour. Cover and refrigerate for 30 minutes.

Use a cookie scoop to measure out even amounts of cookie dough and roll them into a ball with the palms of your hands.

Place each ball onto a silicone or parchment paper-lined baking sheet. Use your thumb to press a well into each cookie dough ball.

Fill the well of each cookie with a small spoonful of berry jam.

Bake for 15 minutes, or until cooked through.

Allow the cookies to rest for 5 minutes before removing them to a baking rack to cool completely. Enjoy!
Very Berry Ginger Balsamic Vinegar