Made with our Calivinegar Very Berry Ginger Balsamic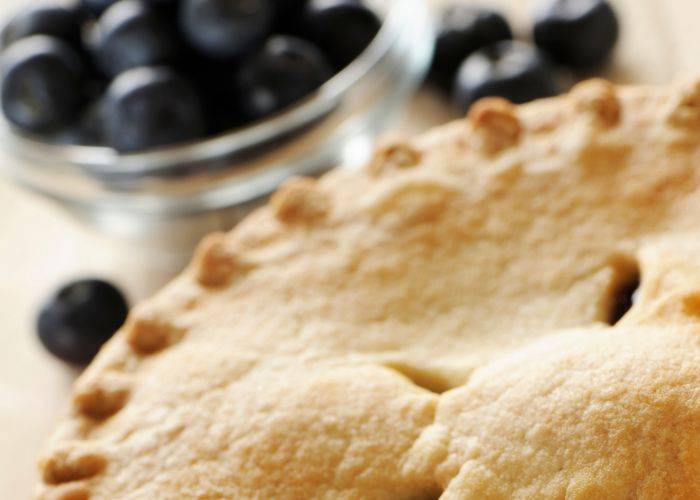 Crust
3 cups all-purpose flour

¾ cup cold butter, sliced

6 tablespoons cold vegetable shortening, sliced

1 teaspoon kosher salt

4 to 6 tablespoons ice cold water
Filling
7 cups fresh blueberries

¼ cup cornstarch

2 tablespoons Calivinegar Very Berry Ginger Balsamic Vinegar

½ cup sugar

⅓ cup honey

1 teaspoon vanilla extract

¼ teaspoon kosher salt

¼ teaspoon ground cinnamon

⅛ teaspoon finely ground black pepper

2 tablespoons butter, cut into ¼-inch cubes

1 large egg
To prepare the crust, process the first 4 ingredients in a food processor until mixture resembles coarse meal. With the processor running, gradually add 4 tablespoons ice-cold water, 1 tablespoon at a time, and process until dough forms a ball and pulls away from the sides of the bowl, adding up to 2 tablespoons more water, 1 tablespoon. at a time, if necessary. Divide the dough in half, and flatten each half into a disk. Wrap each disk in plastic wrap, and chill for 2 hours to 2 days.
Next, prepare the filling by placing 1 cup blueberries in a large bowl and crushing with a wooden spoon. Stir cornstarch and Calivinegar Very Berry Ginger Balsamic Vinegar into crushed berries until cornstarch dissolves. Stir sugar, next 5 ingredients, and remaining 6 cups blueberries into crushed berry mixture.
Unwrap 1 dough disk, and place on a lightly floured surface. Sprinkle with flour. Roll dough to 1/8-inch thickness. Fit dough into a greased 9-inch deep-dish pie plate. Repeat rolling procedure with remaining dough disk
Pour blueberry mixture into piecrust, and dot with butter cubes.
Place second dough disk on top of the berry filling. Tuck the top dough over and under the edge of the bottom dough, and crimp the edges with your fingers. Score the pie on the top with several cuts (so steam can escape while cooking). entire pie with remaining egg mixture. Freeze 20 minutes or until dough is firm.
Preheat oven to 425°. Bake pie on an aluminum foil-lined baking sheet 20 minutes. Reduce oven temperature to 375°, and bake 20 more minutes. Cover pie with aluminum foil to prevent excessive browning, and bake 25 to 30 more minutes (65 to 70 minutes total) or until crust is golden and filling bubbles in center. Remove from baking sheet to a wire rack; cool 1 hour before serving.
Very Berry Ginger Balsamic Vinegar