Made with our Calivirgin Jalapeño Garlic Olive Oil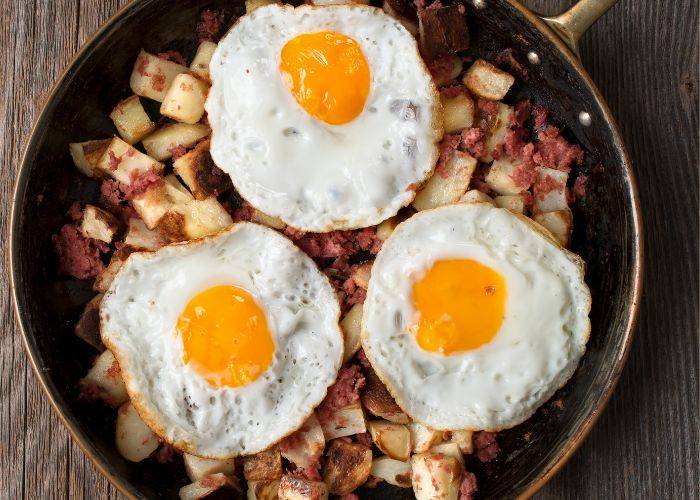 Hash:
2 cups boiled red-skinned potatoes, roughly chopped

2 cups diced cooked corned beef

¼ cup corned beef cooking liquid or chicken broth

½ medium yellow onion, grated

½ clove garlic, mashed with a fork

1 tablespoon fresh flat-leaf parsley, chopped

1 tablespoon whole-grain mustard

¼ teaspoon dried thyme

Pinch of nutmeg

Freshly ground black pepper

¼ cup plus 1 tablespoon Calivirgin Jalapeño Garlic Olive Oil
Eggs:
1/2 teaspoon kosher salt

3 large eggs
Preheat oven to 400°F.

Heat Calivirgin Jalapeño Garlic Olive Oil over medium-high heat in a 10-inch, nonstick, oven-safe skillet. Add the onion, garlic, and pepper. Sauté for about 5 minutes.

Stir in corned beef and cook until fat is released and corned beef is just starting to brown, about 3 minutes. Add potatoes and cook, occasionally pressing the hash down and flipping the hash with a spatula, until potatoes are browned and corned beef is crisp, about 6 minutes.

Stir in mustard, thyme, nutmeg and parsley. Season to taste with salt and pepper.

Drizzle chicken stock over the hash. Use a spoon to make 3 wells in the hash and crack one egg into each well. Bake until the whites are set and the yolks are still runny, about 8-14 minutes or to desired doneness.
Sprinkle eggs with salt and cracked pepper and serve immediately.
Jalapeño Garlic Olive Oil
---