We made it with our Calivinegar Very Berry Ginger Balsamic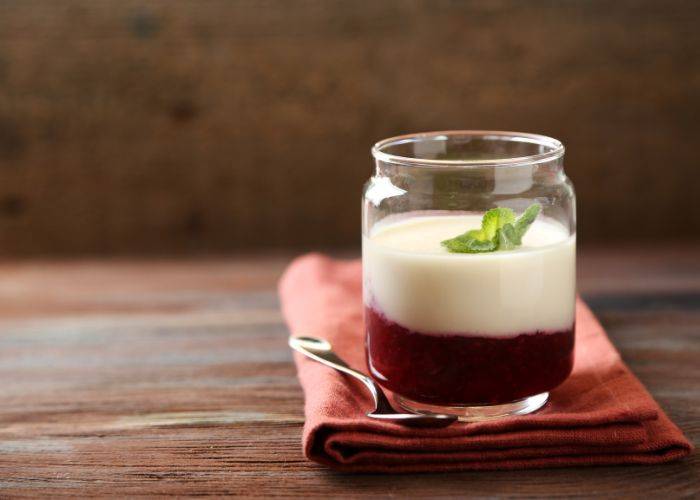 Servings: 8 | Prep Time: 2 hr | Total Time: 2 hours 30 min
Yogurt Panna Cotta:
1/4 cup water

1 packet unflavored gelatin

1/3 cup sugar

1 1/2 cups whole milk

1/2 cup heavy whipping cream

2 cups full fat Greek yogurt
For the Balsamic Raspberry Sauce:
Bring 2 cups raspberries and 1/4 cup water to a simmer in a small saucepan. Simmer until syrupy, about 5 minutes.

Add the balsamic vinegar to the raspberry syrup and simmer another 5 minutes or so, at which point the mixture should be thickened.

Remove from heat and stir in the remaining 2 cups raspberries. Let cool before pouring into individual serving cups. Set aside.

Stir 1/4 cup water and gelatin together in a small bowl. Let sit until they form a gel, 5-10 minutes.

In a small saucepan, bring sugar and 1 cup milk to a simmer. Remove from heat and stir in the gelatin mixture until it dissolves.

In a large bowl, whisk together the remaining 1/2 cup milk, the cream, and the yogurt. Pour the heated milk/sugar/gelatin mixture in and stir to combine. Finally, stir in the lemon juice.

Pour over raspberry sauce in individual serving cups. Cover and place in the refrigerator for at least 2 hours before serving.

Serve and enjoy!
Very Berry Ginger Balsamic Vinegar
This recipe is best to make a day in advance!
Recipe by coffee & quinoa
---