Made with our Calivirgin Guilty Garlic Olive Oil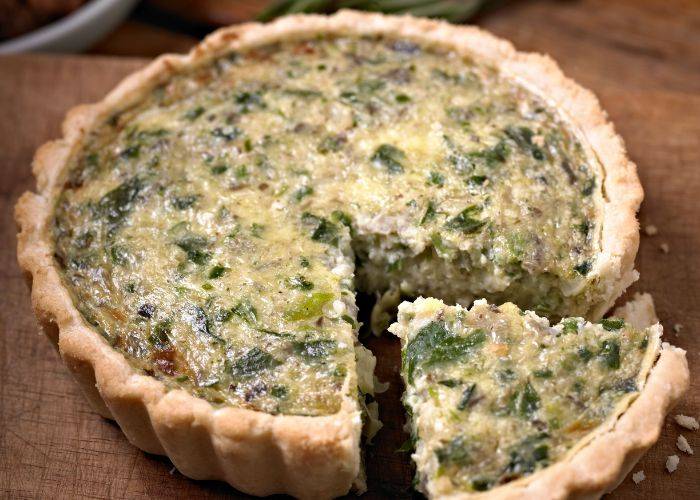 1 frozen deep dish pie crust, 9-inch

1 tablespoon Calivirgin Guilty Garlic Olive Oil

½ cup yellow onion, chopped

1 garlic clove, minced

1 ¼ cups half and half

4 large eggs

1 large egg yolk

1 teaspoon kosher salt

¼ teaspoon black pepper

¼ teaspoon crushed red pepper

10 ounces frozen chopped spinach, thawed and squeezed dry

1 cup Gruyere cheese, shredded
Preheat the oven to 375ºF. Place unwrapped frozen pie crust on a baking sheet and bake for 2 to 3 minutes. Remove from the oven and gently prick the bottom and sides all over with a fork. Return to the oven and bake for 12 more minutes. Remove and set aside.

Reduce the oven temperature to 325ºF.

In a small skillet, heat the Calivirgin Guilty Garlic Olive Oil over medium-high heat. Add the onion and sauté until the soft and translucent, about 3 to 5 minutes. Add in the garlic and stir until fragrant, about 1 minute. Remove the pan from the heat and set aside to cool slightly.

In a medium bowl whisk together the half-and-half, eggs, egg yolk, salt and pepper.

Add the onion and garlic mixture to the bottom of the pre-baked pie crust and spread in an even layer. Sprinkle the shredded cheese over the top. Add in the spinach, spreading it out in an even layer. Pour the half-and-half and egg mixture over the top.

Carefully transfer the quiche to the oven, on the baking sheet, and bake for 50 to 65 minutes or until the quiche is set in the center and the crust is golden brown. If the crust starts to get too brown, you can carefully tent it with aluminum foil.

Let the quiche cool until warm before slicing and serving. Enjoying warm, at room temperature, or even cold.
---