We made it with Calivirgin Premium Extra Virgin Olive Oil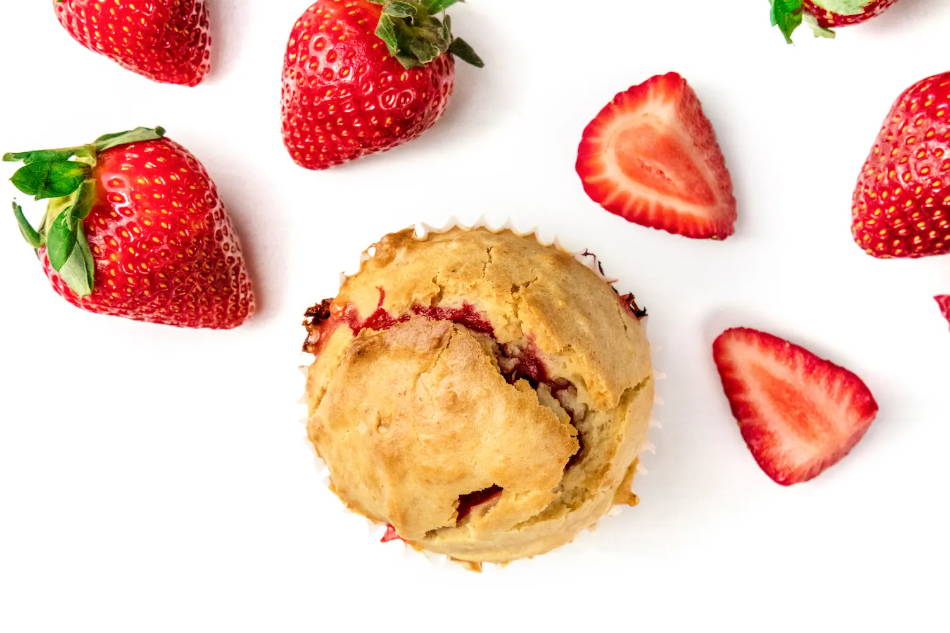 Course: Appetizer, Main Dish, Side Dish
Servings: 12
Prep Time: 10 min
Cook Time: 22 min
Wholesome, fluffy muffins that are full of fresh strawberries & whole grains!
1 ¾ cups white whole wheat flour or regular whole wheat flour

⅓ cup old-fashioned oats, plus 2 tablespoons for sprinkling on top

1 teaspoon baking powder

½ teaspoon baking soda

½ teaspoon fine sea salt

⅓ cup Calivirgin Extra Virgin Olive Oil

⅓ cup maple syrup

2 eggs, preferably at room temperature

1 cup plain Greek yogurt

2 teaspoons vanilla extract

2 cups hulled and diced ripe strawberries

1 teaspoon raw sugar, for sprinkling on top (optional)
Preheat the oven to 400 degrees Fahrenheit. If necessary, grease all 12 cups on your muffin tin with cooking spray or paper liners.

In a large mixing bowl, combine the flour, ⅓ cup oats, baking powder, baking soda and salt. Stir with a whisk to blend.

In a medium mixing bowl, combine Calivirgin olive oil, maple syrup and eggs. Beat together with a whisk. Add the yogurt and vanilla, and mix well.

Pour the wet ingredients into the dry and mix with a big spoon, just until combined (a few lumps are ok). Gently fold the strawberries into the batter. The mixture will be thick, but don't worry.

Divide the batter evenly between the 12 muffin cups. They will be full.

Sprinkle the tops of the muffins with the remaining 2 tablespoons of oats, followed by the raw sugar. Bake the muffins for 19 to 22 minutes, or until the muffins are golden on top and a toothpick inserted into a muffin comes out clean.

Place the muffin tin on a cooling rack to cool. Enjoy!
Calivirgin Premium Extra Virgin Olive Oil