Made with our Calivinegar Prosecco White Wine Vinegar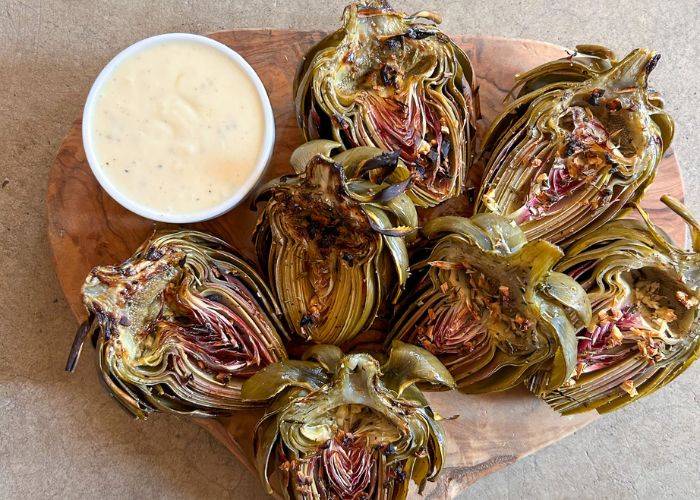 Artichokes:
1 tablespoon kosher salt

3 lemons, cut in half

6-8 artichokes

½ teaspoon ground black pepper

2 cloves garlic, minced

1 tablespoon fresh rosemary, chopped
Vinaigrette:
For the artichokes: In a large pot, bring 8 cups water to a boil over medium-high heat. Juice the lemons into the water and add the squeezed lemon shells.
Using kitchen scissors, remove the thorns from the tips of the artichoke leaves. Cut the artichoke stems to ½-inch long. Cut each artichoke in half, using a paring knife, remove the fuzzy choke. Place the artichokes in the pot and bring to a boil. Cover the pan and steam until the artichoke hearts are tender, about 20 minutes. Using tongs, remove the artichokes and arrange in a single layer on a baking sheet.
Preaheat oven to broil on high. Drizzle both sides of the artichokes with Calivirgin Premium Extra Virgin Olive Oil and season with 1 teaspoon salt and ½ teaspoon pepper. Sprinkle with the chopped garlic and rosemary. Broil for 5-7 minutes on each side. Set aside to cool slightly.
For the vinaigrette: In a medium bowl, whisk together the creme fraiche, Calivirgin Premium Extra Virgin Olive Oil, Calivinegar Prosecco White Wine Vinegar, honey, salt, and pepper until smooth.
Arrange the artichokes on a platter and serve the vinaigrette alongside as a dipping sauce!
Prosecco White Wine Vinegar