Made with our Calivirgin Hot VirginJalapeño Olive Oil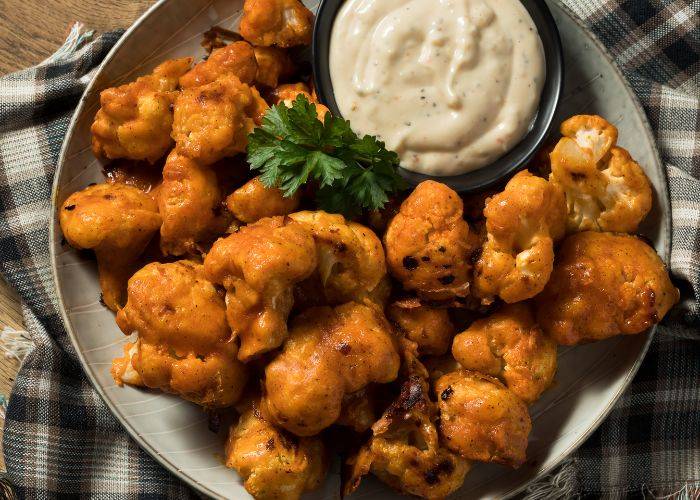 1 small head of cauliflower

¾ cup all-purpose flour

1 cup milk

2 teaspoons garlic powder

2 teaspoons paprika powder

1 cup panko bread crumbs

1 cup Frank's Red Hot Buffalo Wings sauce

1 teaspoon Calivirgin Hot Virgin Jalapeño Olive Oil
Carefully cut the cauliflower into bite-sized florets.

In a large bowl, combine the all-purpose flour, milk, garlic powder, paprika powder, and salt and pepper. Stir until well combined.

Dip the florets into the batter, so they are completely coated.

Roll them into the panko breadcrumbs.

Line a baking sheet with parchment paper and lay the cauliflower florets on the baking sheet. Don't put them on top of each other. Bake for 25 minutes at 350ºF.

Combine Frank's Red Hot Buffalo Wings sauce with a tablespoon of Calivirgin Hot Virgin Jalapeño Olive Oil and pour it over the baked cauliflower wings. Evenly coat them from all sides by stirring them a few times.

Put the coated buffalo wings back on the baking sheet lined with parchment paper. Bake again for 5-10 minutes.
Hot Virgin Jalapeño Olive Oil