We made it with our Calivines Chardonnay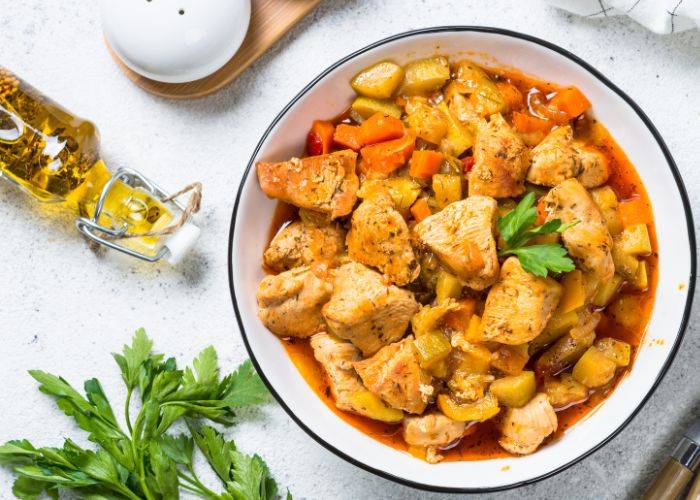 Servings: 4 | Prep Time: 15 min | Total Time: 7 hour 30 min
1 tablespoon

Calivirgin Premium Extra Virgin Olive Oil

1 1/2 pound boneless skinless chicken thighs, cut into 1 inch pieces

Freshly ground salt and pepper

2 cups chicken broth

1/2 cup Calivines Chardonnay

1 tablespoon Worcestershire sauce

1 teaspoon Calivines Barrel-Aged Balsamic

2 teaspoons chopped fresh rosemary

2 teaspoons chopped fresh thyme

1/2 teaspoon dried oregano

1 teaspoon salt, plus more to taste

lots of freshly ground black pepper

6 garlic cloves, finely minced

1 large yellow onion, cut into chunks

3 large carrots, peeled and cut into 1/2-inch diagonal slices

1 pound yukon gold potatoes, diced into 1/2 inch cubes

1/4 cup all purpose flour (or sub for gluten free flour)

1/2 cup unsweetened almond milk (or heavy cream or regular milk)

2/3 cup frozen peas
Add 1 tablespoon Calivirgin EVOO to a large skillet and place over high heat. Add chicken pieces and generously season with salt and pepper, brown meat so that you give the meat room for a nice sear. This should take about 5-6 minutes. You do not need to cook all the way through, we just want these nice and browned. Transfer to a large 6 or 8-quart slow cooker.

Next add the following to the slow cooker with the chicken: chicken broth, Calivines Chardonnay, worcestershire sauce, Calivinegar Barrel-Aged Balsamic Vinegar, thyme, rosemary, dried oregano and salt and pepper. Stir together with the chicken until combined, then add in garlic, onion chunks, carrots and diced potatoes. Cover and cook on low for 7-8 hours or on high for 4-5 hours.

Next, remove 1/2 cup of chicken broth from the slow cooker and transfer to a medium bowl, then stir in 1/2 cup of milk and whisk in 1/4 cup flour until there aren't any lumps remaining. Add mixture back to slow cooker and stir to combine. Stir in frozen peas and cook uncovered on HIGH for 15-20 more minutes until chicken stew thickens up a bit. Taste and season with more salt and pepper, if necessary. Serve immediately with fresh thyme, toasted french bread, cornbread, crackers, or even buttermilk biscuits.
---