Made with our Calivirgin Serrano Olive Oil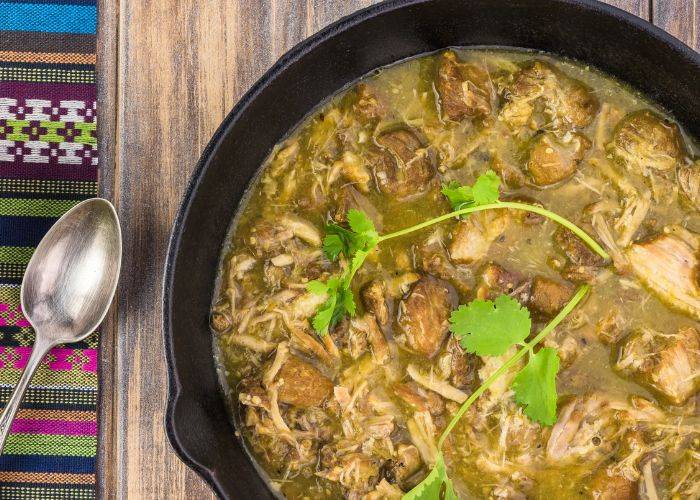 For the Chili Verde:
12 ounces tomatillos, husked and rinsed

3 jalapeños, stems removed

2 large poblano peppers, stems removed

2 medium onions, chopped

1 tablespoon garlic, minced
For the pork:
2 tablespoons Calivirgin Serrano Olive Oil

2 ½ pounds pork shoulder, cut into bite sized chunks

Salt and pepper, to taste

1 ½ cups water

2 tablespoons lime juice (about the juice from a lime)

⅓ cup cilantro, chopped
Spray a large baking sheet with nonstick cooking spray. Place the tomatillos, jalapeños and poblanos on the baking sheet and place under broiler. Broil on high for 10 minutes, turning the tomatillos and peppers over halfway through.

Remove the baking sheet from the broiler and cover with aluminum foil or plastic wrap. Let it sit for 10 minutes. Uncover and remove as much of the skin from the peppers as you can. At this point, you can also remove the seeds from any peppers if you don't want it too spicy.

Add the broiled tomatillos, peppers, onions and garlic into a large blender. Blend until smooth. Set aside until ready to use.

Heat a large pot or dutch oven over medium-high heat. Add in Calivirgin Serrano Olive Oil

and then the pork. Season generously with salt and pepper. Sear the meat on all sides until nicely browned.

Add the prepared chili verde mix thoroughly, making sure to scrape the bottom of the pot with a wooden spoon so you get all the brown bits. Cover, lower the heat to simmer and cook for 2 to 3 hours, until the pork is tender.
Add the water, lime juice and cilantro. Taste and season with more salt, if necessary.