Made with our Calivinegar PearBalsamic Vinegar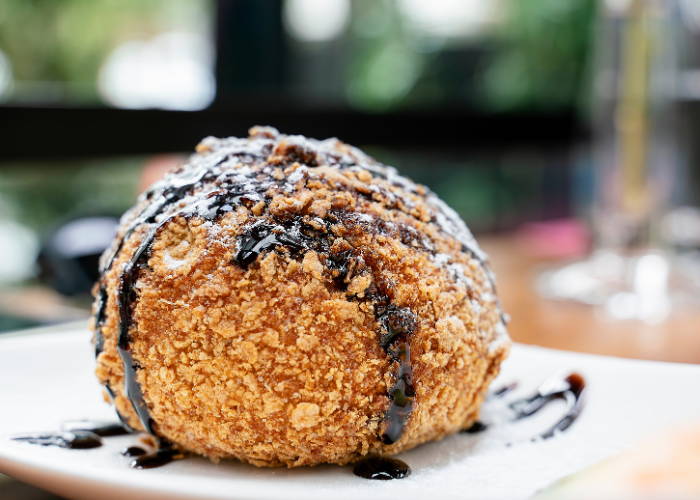 6 cups corn flakes cereal

½ cup salted butter
2 ¼ teaspoon ground cinnamon
Vanilla ice cream, firm enough to shape but just soft enough to scoop
Calivinegar Pear Balsamic Vinegar, for drizzle
Pour cornflakes into a gallon size resealable bag, seal bag and then use a rolling pin to crush cornflakes to small bits.
Melt butter in a nonstick 10-inch fry pan over medium heat. Stir in crushed corn flakes and cinnamon and increase heat slightly.
Cook mixture, stirring constantly until golden brown and fragrant, about 2 minutes.
Remove from heat, pour mixture in a shallow dish and allow to cool.
Remove ice cream from freezer, scoop out desired serving size and shape into a ball with clean hands.
Immediately drop shaped ice cream ball into corn flake mixture and roll to evenly coat, while pressing corn flake mixture around outer surface for a thicker coating.
Freeze for 10-15 minutes to re-solidify ice cream, keep frozen until ready to serve.
Drizzle Calivinegar Pear Balsamic Vinegar before serving and enjoy!
Recipe inspired by Cooking Classy