Made with our Calivinegar Red Wine Vinegar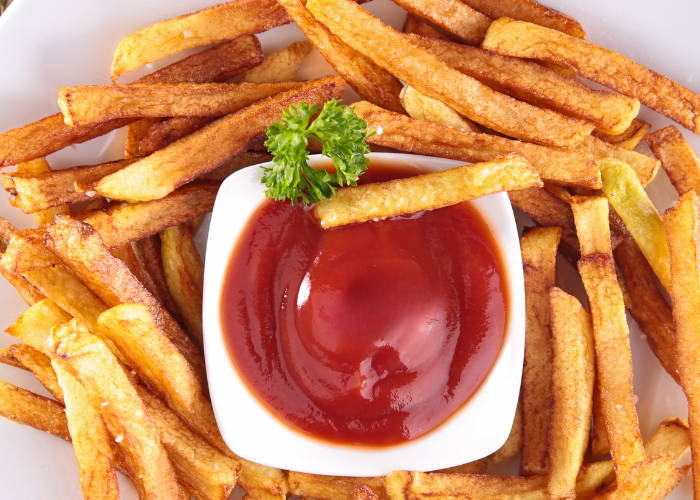 Cut the onion to medium dice and place in a medium sized bowl.

In a Dutch oven (or 3-quart sauté pan) over medium heat, warm the Calivirgin Premium Extra Virgin Olive Oil. Add the onions and 1 teaspoon of salt. Cook the onions until translucent, stirring occasionally, about 10 minutes.
Reduce the heat to medium-low, and add the clove, cinnamon, and sweet paprika to the onions. Stir for 1 minute, coating the onions.
Add the sugar and 1 teaspoon of salt, and stir until the sugar melts, about 30 seconds. Add the tomato paste and honey, stirring for 2 minutes.
Add ⅔ cup of Calivinegar Red Wine Vinegar and the crushed tomatoes. Reduce the heat to low. Set a lid on the Dutch oven, leaving it slightly ajar to allow for evaporation, but also control any splatter. Cook, stirring occasionally, 20-25 minutes.
Remove from the heat and set aside for 5 minutes to slightly cool. Pour the unblended ketchup into a large bowl and set the Dutch oven aside.
Blend the ketchup mixture in batches, filling your countertop blender ⅓ to ½ full at a time.
Remove the cap from the top of the blender lid, cover the hole with a kitchen towel, and hold the lid with your hand. Start the blender at a low setting, slowly increase to high.
Pour the blended ketchup mixture back into the Dutch oven. Repeat until all of the ketchup is blended.
Add the remaining 1 teaspoon of salt and the remaining 2 tablespoons of Calivinegar Red Wine Vinegar to the ketchup.
Simmer the mixture on a low heat for 5 minutes. Remove from the heat and allow to cool, 20-30 minutes.
Transfer the ketchup to a glass jar or plastic container, and store in the refrigerator for up to one month. It is ready to use immediately.