We made it with our Calivirgin Jalapeño Garlic Olive Oil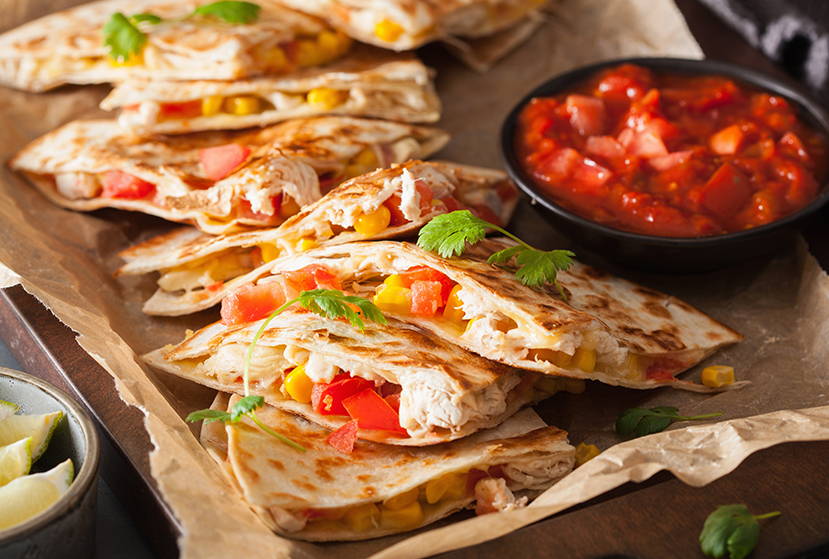 Course: Main Dish
Servings: 4
Prep Time: 5 min
Cook Time: 25 min
Ingredients
2 soft flour tortillas
2 chicken breasts, cubed
1 teaspoon cumin
1 teaspoon paprika
1 teaspoon garlic powder
1/3 teaspoon chili powder
1 teaspoon salt
1 tomato, chopped
2 tablespoons Calivirgin Jalapeño Garlic Olive Oil, divided
1 onion, chopped
1/2 red bell pepper, chopped
1/2 green bell pepper, chopped
4 tablespoons corn
1 cup cheddar cheese, shredded
Directions
Quesadilla
In a non-stick pan, add 1 tablespoon Calivirgin Jalapeño Garlic Olive Oil, chopped onion and green and red bell peppers.
Sauté for 10 minutes.
Remove from pan and set aside
In the same pan, melt 2 1/4 teaspoon of Calivirgin Jalapeño Garlic Olive Oil.
Add the cubed chicken, cumin, paprika, salt and garlic powder. Cook for 15 minutes until chicken is thoroughly cooked.
In a separate pan, cover the bottom with Jalapeño Garlic Olive Oil, heat the tortilla on low heat on each side until the tortilla becomes slightly golden
Add half the amounts of the shredded cheddar cheese, chicken, bell peppers, onions and corn.
Flip half of the tortilla over the ingredients and let it cook on low heat until cheese has completely melted.
Remove from pan. Cut into three triangles.
Repeat process with remaining totrilla.
Serve with salsa and enjoy!
Salsa:
In a food processor add the tomato, onion, vinegar, cilantro and salt.
Pulse for 1 minute
Serve with warm quesadilla
Calivirgin Jalapeño Garlic Olive Oil