We made it with our Calivines Pinot Noir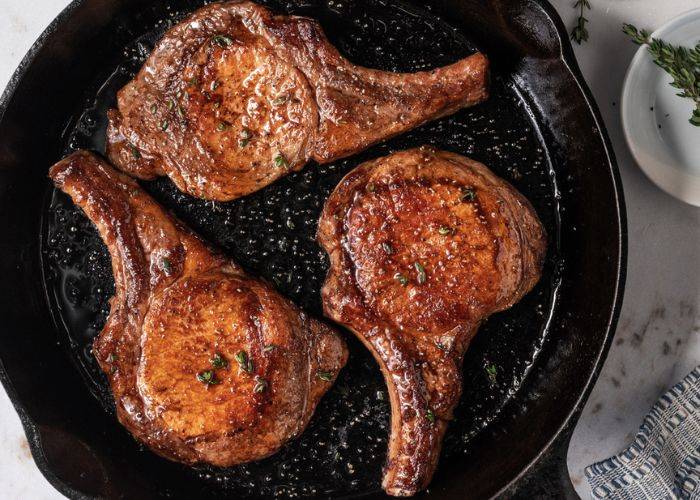 Servings: 4 | Prep Time: 5 min | Total Time: 15 min
Pork Chops:
Heat the oil and 2 tablespoons of butter in a heavy skillet over high heat. Salt and pepper both sides of the pork chops and sear them until they're nice and golden brown, 2 minutes per side. (No need to fully cook the chops at this point.) Remove the chops from the skillet and set aside.

Reduce heat to medium high heat, then throw in the whole cloves of garlic. Stir around until golden brown, couple minutes. Pour in red wine, then add bay leaf. Stir it around and cook, raise heat until if necessary, until sauce is reduced and thick, several minutes.

Stir in beef broth and add the chops back to the skillet, arranging them so they are surrounded by sauce. Cook the chops in the sauce for a few minutes, then add the balsamic. Shake skillet to distribute sauce around pan, then cook for a few more minutes, or until chops are done.

Remove chops from skillet once more, then let the sauce reduce little more if needed, until very thick and rich and until garlic is soft. Swirl in the remaining 1 tablespoons of butter and sprinkle in a little salt and pepper.
Mushrooms:
Melt another 1 tablespoon of butter in the pan, then add sliced mushrooms and cook until nicely colored and saturated with butter, about 3-5 minutes.