Made with our Calivirgin Serrano Olive Oil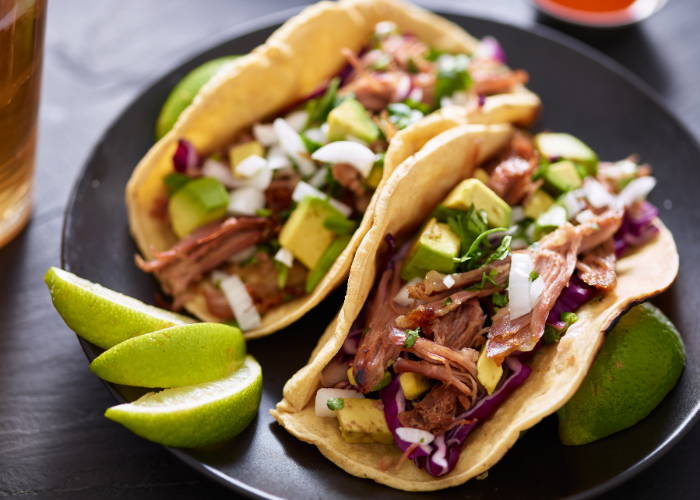 2 tablespoons Calivirgin Serrano Olive Oil

4 pounds piece brisket flat, trimmed

4 teaspoon kosher salt, divided

2 ½ teaspoons black pepper, divided

1 white onion, thinly sliced

6 garlic cloves, chopped

1 1-inch piece ginger, peeled and chopped

2 tablespoons adobo sauce

1 tablespoon Calivinegar Red Wine Vinegar

1 ½ teaspoon dried oregano

1 ½ teaspoon ground cumin


Corn tortillas, for serving
Heat Calivirgin Serrano Olive Oil in a large Dutch oven over medium-high heat. Sprinkle the brisket all over with 3 teaspoons of the salt and 2 teaspoons of the pepper. Cook the brisket, turning occasionally, until browned on all sides, 10 to 12 minutes. Transfer the brisket to a large plate; set aside.
Return the Dutch oven with the drippings to medium heat. Add the onion, garlic, and ginger. Cook, stirring occasionally, until softened, about 6 minutes. Stir in 2 cups of water, Calivinegar Red Wine Vinegar, oregano, cumin, the remaining 1 teaspoon salt, and remaining ½ teaspoon pepper. Nestle the meat in the pan.

Bring the broth to a simmer over medium-heat. Cover and decrease the heat to low to maintain a low simmer. Cook until the brisket is fork tender, 4 to 5 hours.

Using two forks, shred the brisket in the Dutch oven. Cover and keep warm over low.

Use Calivirgin Pickled Red Onions recipe.

Place the shredded brisket in warm corn tortillas. Garnish with the pickled red onions and your favortie toppings.
Recipe inspired by The Pioneer Woman