Made with our Calivirgin Premium Extra Virgin Olive Oil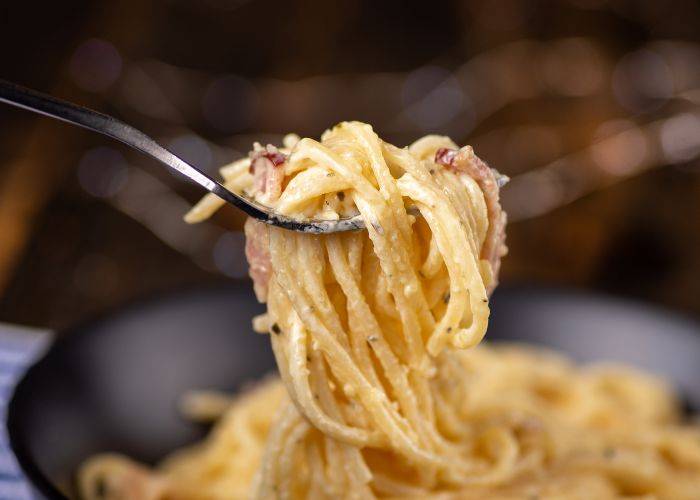 ½ large butternut squash, peeled and chopped into ½-inch pieces
2 tablespoons Calivirgin Premium Extra Virgin Olive Oil
½ tablespoon salt
¼ teaspoon ground black pepper
½ teaspoon garlic powder
½ teaspoon onion powder
8 slices bacon, chopped
½ large onion, cut into 1-inch pieces
2 tablespoons sage, chopped
1 pound linguine pasta
2 egg yolks
½ cup Parmesan cheese, grated
Preheat oven to 400°F. Place chopped butternut squash on a rimmed baking sheet. Add Calivirgin Premium Extra Virgin Olive Oil, salt, black pepper, garlic powder, and onion powder. Toss to combine. Roast until tender, approximately 20-25 minutes. Remove and let cool slightly.
While the squash is cooking, heat a large skillet over medium-high heat. Add bacon and cook, stirring occasionally, until crisp, about 6-8 minutes. Transfer bacon to a paper towel-lined plate to drain.
Remove all but 1 tablespoon of bacon fat in the skillet. Add onion and cook for about 6-8 minutes until translucent. Add chopped sage and cook for one more minute. Turn off heat and set aside.
Cook pasta in a large pot of boiling salted water until al dente. Drain, reserving 1 cup of the pasta cooking water.
Add the slightly cooled squash to a food processor and puree until smooth. Slowly drizzle in ¼ cup of reserved pasta water and pulse.
Add squash purée, egg yolks, and Parmesan cheese into the skillet with onion and sage. Use a whisk to combine while everything is still warm — it will slightly cook the eggs.
Add pasta and bacon and toss to combine. (If pasta sauce is too thick, slowly drizzle in more of the reserved cooking liquid).
Plate pasta on individual plates or in bowls and top with additional Parmesan cheese, chopped sage, and freshly grated black pepper. Serve immediately.
Premium Extra Virgin Olive Oil