We made it with our Calivirgin Extra Virgin Olive Oil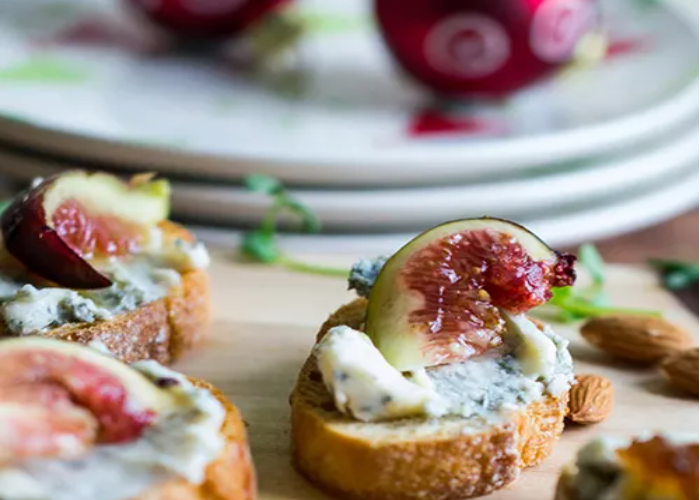 Servings: 24 | Prep Time: 15 min | Total Time: 35 min
3 tablespoons

Calivirgin Premium Extra Virgin Olive Oil

1 large yellow onion, halved and thinly sliced

1 teaspoon mined fresh rosemary leaves

Salt and ground pepper

1 baguette (about 1 pound), cut into 24 quarter-inch-thick slices on the diagonal

About 18 ripe Black Mission figs

5 ounces Gorgonzola cheese

Optional: rosemary sprigs for garnish
Warm olive oil in a nonstick skillet over medium-high heat. Add onion and cook, stirring, until limp, about 3 minutes. Sprinkle sugar over onion and stir well. Turn heat down to low and spread out in a pan. Cook until golden brown, about 15 minutes, stirring once or twice. Transfer into a small bowl and stirn in rosemary and salt and pepper to taste.

Preheat a broiler and adjsut rack so it is about 4 inches from element. Brush bread slices with oil and broil, turning once, until golden on both sides. Keep broiler on.

Spoon onions onto bread, dividing equally. Thinly slice figs and arrange 3 to 4 slices on each slice atop on bread. Divide bits of gorgonzola cheese evenly over figs. Return to broiler and broil until cheese has melted. Serve warm, garnishing serving plate with rosemary if desired.
Premium Extra Virgin Olive Oil
---