Made with our Calivines Sauvignon Blanc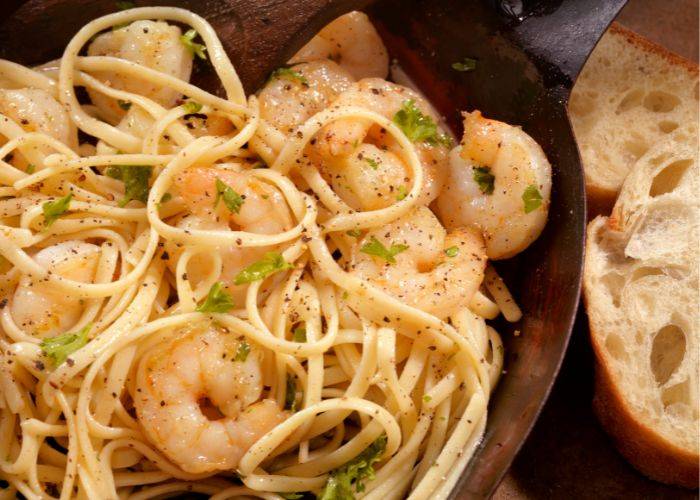 4 tablespoons butter, divided

4 cloves garlic, minced

2 tablespoons Calivirgin Guilty Garlic Olive Oil

2 cups chicken or vegetable broth

2 cups water

1 pound linguine

1 ½ jumbo raw shrimp

¾ cup Calivines Sauvignon Blanc

¼ fresh sage, minced

1 cup heavy whipping cream

½ cup Parmesan cheese, grated

½ cup fresh parsley, chopped

1 lemon

Salt and pepper, to taste
Heat two tablespoons butter in a large pot over high heat. Add half of the garlic and sauté, stirring constantly, for one minute. Add the broth and water; bring to a boil.

Add the pasta and boil until the pasta is cooked. Lower the heat and simmer until most of the liquid is absorbed. Do not drain - there should be some liquid left in the pan to help coat the noodles.

While the pasta is cooking, heat two tablespoons butter and two tablespoons of Calivirgin Guilty Garlic Olive Oil in a large skillet over medium heat. Add the shrimp and saute for 1-2 minutes on each side until the shrimp are almost cooked through.

Add the garlic, sage and white wine to the shrimp pan. Let the shrimp cook for another 3-5 minutes or until most of the wine has evaporated and the shrimp are lightly browned on the outside. Remove from heat, cover, and set aside.

Add the shrimp, heavy whipping cream, Parmesan and parsley to the cooked pasta. Toss everything together and finish with a squeeze of lemon juice, salt and pepper.