Made with our Calivines Merlot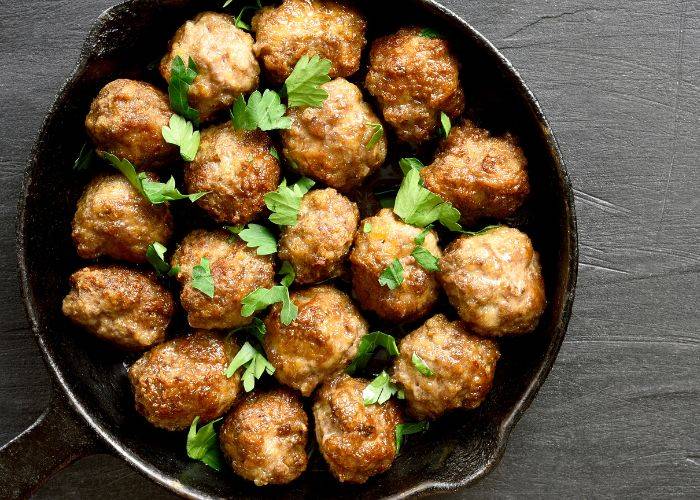 1 6-ounce piece day-old French bread, crust left on, cut into 8 pieces

1 cup whole milk

1 ½ pounds ground beef

2 large eggs

1 medium onion, finely chopped

½ cup plus 1 tablespoon chopped fresh Italian parsley

Ground black pepper, to taste

Salt, to taste

All purpose flour

2 tablespoon butter

1 ½ tablespoons

Calivirgin Premium Extra Virgin Olive Oil

2 cups Calivines Merlot

¼ cup tomato paste

3 cups canned beef broth
Preheat oven to 350ºF. Combine bread pieces and whole milk in medium bowl, pressing on bread to submerge; let stand until milk is absorbed, about 10 minutes. Squeeze out most of milk from bread, discard milk. Place bread in a large bowl.

Add ground beef, eggs, finely chopped onion, ½ cup chopped Italian parsley, salt, pepper, and mix well. Transfer meat mixture to processor. Process until well blended and mixture looks pasty.

Form mixture into 2-inch diameter meatballs, about 30. Divide meatballs between two 13x9x2 inch glass baking dishes. Bake meatballs 30 minutes. Set meatballs aside.

Dust meatballs with flour; shake off excess. Melt butter with

Calivirgin Premium Extra Virgin Olive Oil

in heavy large skillet over medium-high heat. Working in batches, add meatballs to skillet and sauté until brown on all sides, about 3 minutes. Return all meatballs to skillet.

Whisk wine and tomato paste in a small bowl to blend. Add wine mixture to meatballs and bring to boil. Continue boiling until wine thickens slightly, stirring frequently, about 5 minutes.

Add broth, reduce heat to medium and simmer until flavors blend and gravy thickens, stirring frequently, about 15 minutes. Season to taste with salt and pepper.

Transfer meatballs and gravy to bowl. Sprinkle with remaining 1 tablespoon parsley and serve.