Made with our Calivinegar Sinful Strawberry Balsamic Vinegar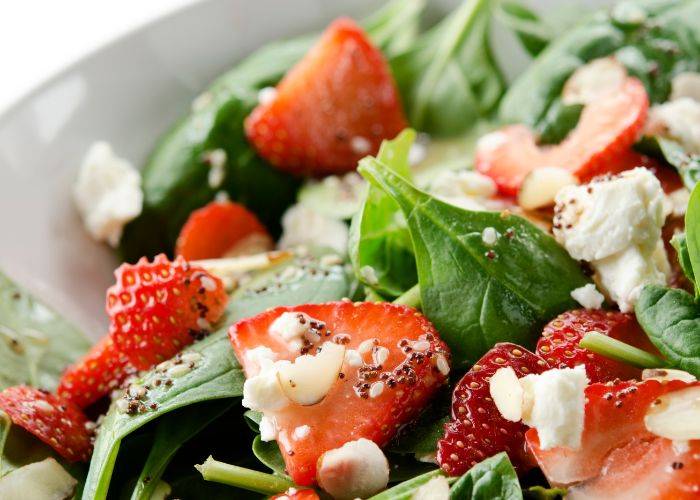 Strawberry Salad:
¾ cup raw almonds, thinly sliced
½ small red onion, thinly sliced
10 ounces fresh baby spinach
1 pound strawberries, sliced
¾ cup feta cheese, crumbled
Poppy Seed Dressing:
3 tablespoons Calivirgin Lusty Lemon Olive Oil
1 ½ tablespoons poppy seeds
1 ½ tablespoons honey
½ teaspoon Dijon mustard
½ teaspoon kosher salt
⅛ teaspoon black pepper
Preheat the oven to 350°F. Spread the almonds in a single layer on an ungreased baking sheet. Bake for about 8 to 10 minutes.
Place the sliced onions in a bowl and cover with cold water. Let sit while you prepare the rest of the salad.
In small mixing bowl, whisk together all of the dressing ingredients until well combined.
Place the spinach in a big serving bowl. Add the strawberries. Drain the red onion and add it as well. Drizzle about half of the dressing over the salad and toss to coat the leaves. Add a little more if needed to suit your preferences. Add the feta and almonds. Toss lightly to combine. Enjoy!
Sinful Strawberry Balsamic Vinegar
Recipe inspired by Well Plated
---