We made it with Calivirgin Barrel Aged Balsamic Vinegar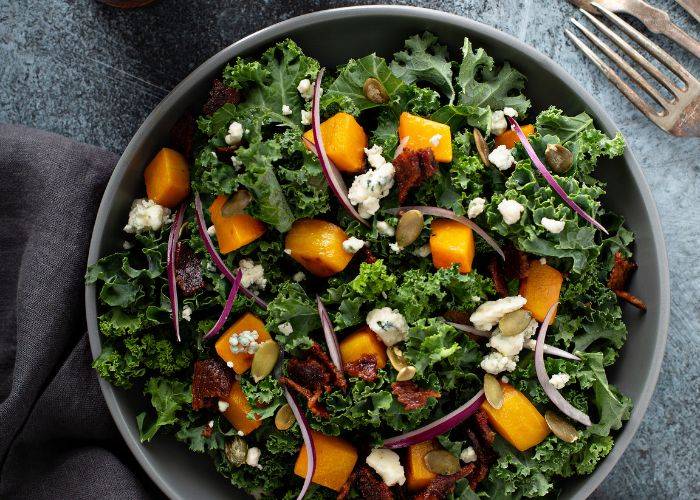 Servings: 2-4 | Prep Time: 10 min | Total Time: 40 min
Butternut Squash & Kale Salad:
1 large bunch kale

2 cups butternut squash, cubed

2 to 3 ounces gorgonzola cheese, crumbled

3-4 tablespoons of Calivirgin Olio Nuovo or Calivirgin Extra Virgin Olive Oil

½ cup dried cranberries

¼ cup roasted pepita or sunflower seeds

Optional: Chopped Calivirgin Rosemary Almonds
Maple-Balsamic Dressing:
Preheat oven to 400°F (204°C).

Prepare the butternut squash: Slice off each end, cut vertically in half, and remove the seeds. Peel and cube squash into about 3/4" chunks. Line a baking pan with parchment paper and arrange squash cubes in a single layer. Drizzle with Calivirgin Olio Nuovo and salt and pepper to taste.

Tear or slice kale into bite-sized pieces (stems removed). Place in a large bowl. Gently massage to soften.

Roast squash for 30-35 minutes (or to desired tenderness), stirring halfway through. When squash is done baking, add to kale and gently toss. Add dried cranberries, pepitas and gorgonzola cheese .

Mince garlic and fresh rosemary. Add all dressing ingredients to a bowl and whisk to combine.

Optional: Add in a handful of chopped Calivirgin Rosemary Almonds.
Barrel-Aged Balsamic Vinegar
Enjoy this with a glass of Calivines Viognier!