Made with our Calivirgin Extra Virgin Olive Oil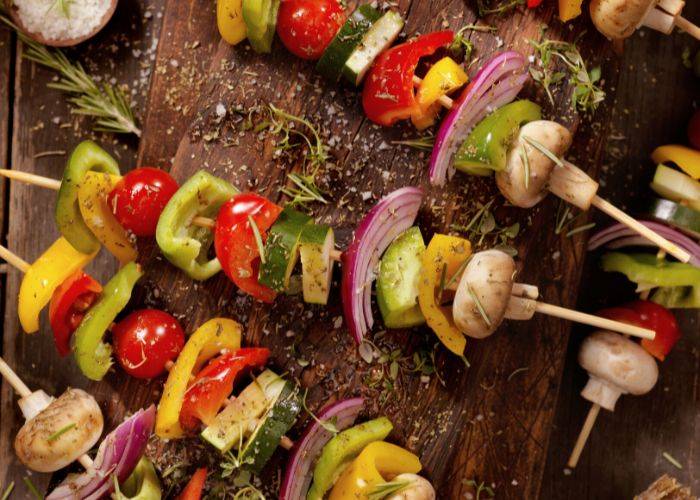 Vegetable Skewers:
Garlic Herb Sauce:
5 cloves of garlic, minced

3 tablespoons fresh parsley, minced

3 tablespoons fresh cilantro

1 teaspoon fresh rosemary, minced

Salt, to taste

Freshly ground black pepper, to taste
Soak approximately 8-12 wooden skewers in water for at least 15-30 minutes.

Prepare the vegetables for the skewers. For each red onion, first peel, then slice in half. Chop each half into thirds, as if you were cutting a pizza (6 total pieces from one onion). Seed and chop each bell pepper into approximatey 1-inch by 1-inch pieces. Finally, chop the zucchini into rounds.

In a medium size bowl whisk together the

Calivirgin Premium Extra Virgin Olive Oil

, minced garlic, parsley, cilantro, rosemary, salt, and pepper. Set aside.
Skewer the vegetables by alternating between red onion, zucchini, and the different colored bell peppers. Brush skewers with a light layer of

Calivirgin Premium Extra Virgin Olive Oil

.

Preheat grill to medium-high heat. Once the grill is hot, add skewers and grill for approximately 5-8 minutes per side, or until vegetables are just softening and browning around the edges.

Remove from heat, brush with garlic herb sauce and drizzle with Calivinegar Barrel-Aged Balsamic Vinegar, if desired. Enjoy!
Premium Extra Virgin Olive Oil
---