We made it with our Calivinegar Blood Orange Balsamic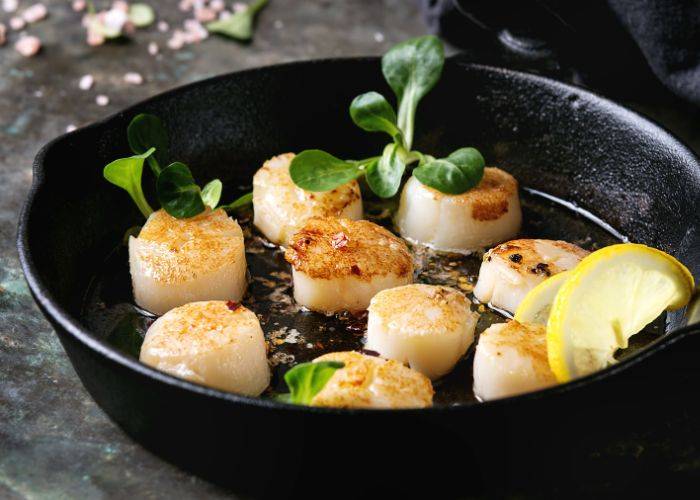 Servings: 6 | Prep Time: 5 min | Total Time: 15 min
Blood Orange Sauce
Juice of 1 small orange
Pinch of Kosher salt
Pinch of black pepper
Seared Scallops
1 pound extra jumbo scallops, rinsed and pat dry
½ teaspoon Kosher salt
1 teaspoon plus 2 tablespoons Extra Virgin Olive Oil, separated
1 tablespoon unsalted butter
Begin the sauce by placing balsamic vinegar in a small saucepan over medium-low heat. Allow to simmer 5-7 minutes, or just until reduce by half.
Transfer 2 tablespoons of the balsamic reduction to a small bowl, and reserve any of the remaining reduction for another use. Add freshly squeezed orange juice to the bowl, as well as a pinch of Kosher salt and a pinch of black pepper. Whisk to combine, and set aside until ready to use.
Add scallops to a mixing bowl, along with 1 teaspoon olive oil and Kosher salt. Mix together until scallops are evenly coated with both oil and salt. Set aside until ready to use.
Add 2 tablespoons of olive oil to a large, nonstick sauté pan over medium-high heat and allow to come to temperature. Add butter, and as soon as it has melted, place the scallops in the pan, spacing them apart so that no scallop is touching another. Do not overcrowd the pan, and sear in batches if necessary.
Allow the scallops to cook for 2 - 2 ½ minutes on each side, without jostling them or moving around in the pan. Transfer scallops to a plate, drizzle with balsamic sauce, serve and enjoy.
Blood Orange Balsamic Vinegar
Recipe inspired by The Anthony Kitchen
---